5 Strategies To Increase Your Conversion Through Reels
There are 1398 million MAU (monthly active users) on Instagram making it the most loved brand on social media. 58% of marketers are planning to leverage Instagram reels in 2022. Both the figures mentioned above show us that Instagram is a preferred media platform from users' as well as marketers' perspectives.
To get the attention of such a large market you need a proper strategy in place this article covers tried and tested strategies. To get the attention of such a large market you need a proper marketing strategy. The motive of these strategies is not only to increase your reach or traffic but also to increase sales, and signups to your newsletter, or subscribers list whatever your aim is these strategies will you achieve it.
Understanding The Algorithm
Understanding the Instagram algorithm is like having a secret recipe of your favorite dish. Once you know the secret recipe you just have to mix the ingredients properly. The algorithm has a blend of factors that helps Instagram to decide which content should be prioritized and which is better at the bottom of the user's feed.
The algorithm favors reels that have these 4 qualities -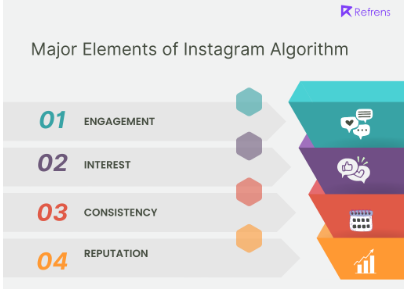 The algorithm wants to serve you the best and that's why it keeps a track of your interaction. This interaction can be in the form of following, likes, shares, save, etc. If you engage with someone from your feed a lot Instagram will a make point to serve you their content as soon as it is uploaded. This engagement can be with the accounts added to your feed as well as the explore section interaction.
If you like some video then AI (Artificial Intelligence) will learn about the subject of the video and will serve you more from that subject. Al learns about your interest subject by analyzing the audio and hashtags of your likes content.
From a creator's perspective, you should know that the algorithm favors the new and trendy content. This is done to serve the users with updated and relevant content.
If you are famous on Instagram and are known for sharing quality content the Instagram algorithm will favor you. If you have an image of sharing sharable content the algorithm will appreciate your work by increasing its reach.
The algorithm is like the rules of the game, if you know the game pretty well then you can twist it in your favor. By inculcating these 4 qualities you can increase the visibility and interaction on your page.
Optimizing Your Content
Content is the heart of the reel. Even though we have high visibility our aim is to increase conversion so to really achieve that goal we have to focus on content. A clear message and interaction can help your audience to understand you in a better manner.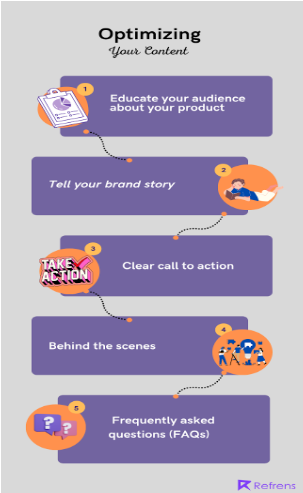 Find below a comprehensive list of reel topics you can use to achieve your goals
Educate your audience about your product
Interactive graphics+ relevant educational content = long term retention of message
A higher reach can be attained by utilizing the creative platform to tell the audience about your goods and services. Instead of only making your content promotional, we advise you to emphasize the benefits of your items so that you may convert that reach into conversion.
For example – If you have a makeup brand then using reels you can clearly communicate How your product is different and why they should use it.
If you have a saas tool for creating invoices, you may utilise the reels format to show your client how simple it is to make an invoice online. Moreover, you can also take product feedback that will help you know what consumer thinks about your product.
This media can be a great tool to convey the unique story of your brand. People typically visit a website's about us page to learn more about the company. To create an interactive relationship, you can use Instagram Reels to include convey the company's message, images of your goods and services, photos of your customers, and much more.
Utilize this innovative tactic to engage your target audience on the Instagram platform and direct them to your website. There is a greater likelihood that customers will purchase the goods and services associated with your brand if your content is appealing and captivating.
This is the most important step to getting conversions. Serve the audience with a clear next step and get people to pay attention is the best method to persuade them to take action. Place the Call to action in a place that is hard to miss.
This approach works well for drawing in people who are already interested in your video and actively watching it. The conversion rate for calls to action at the beginning of videos was just 3.15 percent, whereas the conversion rate for calls to action at the end of videos was 10.98 percent.
Frequently asked questions (FAQs)
This is a great way to engage your audience and build a conversation. This shifts the spotlight to your audience they feel noticed.
These fun behind-the-scenes compilations give a vibe that you have a great work environment and people always like to be part of something good.
Shooting With Perfection
Shooting perfectly optimizes the viewer's experiences and sets the base for a perfect interface. Reels offer some shoot tools on the left side like-
Audio- to select your favorite song or select the original audio.

Speed- this helps you to shoot in slow or fast motion), effects (which provide overlays and AR-minded effects

Timer- this is immensely helpful for solo shoots

Align- With the help of this tool, you can see where in the previous cut you should stand to maintain your place.
Video Effects
Every user is exposed to thousands of videos in a day in such a situation you have to add the secret sauce to make your video stand out. So to make the eyes of your audience pop and jaw drop use these editing techniques –
Transitions can be in the form of outfit changes, character swaps (where you play multiple characters), or unique transition effects accessible via the Effects button.
Add text in the video and captions
Including text in your video clip has several benefits: It can give additional context to what is already there in the audio, it makes your point clear even to viewers without sound or who might have hearing difficulties, and it may be a stylish visual flourish to your video.
The Instagram algorithm can "understand" your material and serve it to the right audiences by using hashtags. So it is ideal to add 3-5 hashtags.
Using The Analytics Tool
Analytics is a great way to check whether your strategy was a success or a failure. Go to your Instagram profile and choose "Insights" to see how your Reels are performing.
Using this option, you may browse through and compare the performance of your various Reels videos. You can get insights into the following factors by using the tool-
Interactions, Comments, Likes, Saves, Reach, Plays, Shares, etc.
Conclusion
Instagram provides tons of opportunities for leads and conversions, from producing excellent organic content to setting up paid advertising campaigns. You can make your Instagram account a social media channel that generates sales for your company by selecting the ideal combination of tools and strategies for your marketing objectives.
The strategies mentioned above are timeless so whatever your marketing or business objectives you can easily achieve them by using these strategies.